Stay Smart with the smartest technology in the hyper-connected world.
Achieve maximum work at more speed and reduced costs with minimum human errors – IoT does it all!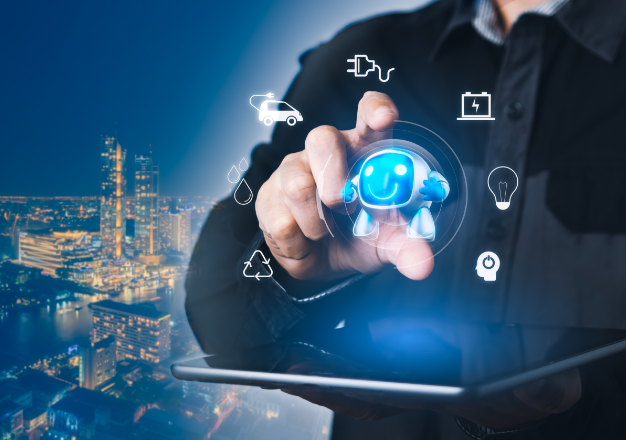 To stay digitally transformed, one needs to integrate the latest data analytics with the Internet of Things (IoT). This enables you to evolve into an organization that shall support digital automation.
Provides your business with smarter solutions.
Collects large data that shall help you in making better decisions.
Helps with automation in your industry resulting in minimum errors.
Provides additional and improved quality of services.
Join the IoT revolution to revamp your conventional business.
IoT surge is sure not to slow down in near future. Internet of Things is not only changing our lives but has also begun to alter our business. One must embrace this technology to improve customer experiences as well as to optimize digital business. IoT is now just the tip of the iceberg that is visible but has a long way to go. It has endless possibilities in near future, some of the recent ones are:
It offers improved patient care and services. In future, IoT shall effectively monitor wearable medical devices and provide analysis cum visualization in an easier way.
The Internet of Things shall transform the hospitality industry and gather data in altering ways enabling organizations to improve guests' experiences to provide more personalized services. It can proactively monitor business making it smarter and more efficient.
IoT can alter how schools and colleges gather data and automate processes. It shall then create new ways to learn by students. IoT can simplify operations for school administrators by monitoring all processes.
IoT can deliver better connections to citizens and public entities, this also helps in increasing transit safety through sensor data that can track any anomalies. It can also reduce congestion and energy use through smart city technologies.
IoT can gather data from devices and be analysed to improve the traveller experience and safety and reduce congestion. By abiding these, it can efficiently reduce the operating cost as well as improve operational performance.
By using such IoT devices and technologies combined with Techworks Talents you are sure to speed up and achieve the smart business platform sooner. 
Our process begins with data collection, sorting, processing, analysis and visualization that enables you to understand the indicators and help you make an informed decision.
 We help you unify your business applications, services and data in such a way that managing them will be under one umbrella irrespective of their geographical location.
Our experts dedicate special attention while developing your software platform that it defends against any possibilities of data misuse.